Get Creative
Discover 3D printing, robotics, stop motion movies creation, audio recording, and more at Haute Create and Haute Studio.
Haute Create is a space for creativity, innovation, and design. Access chrome books, an iMac, large-format printing, and more. Get creative with 3D printing, coding and robotics, stop-motion movie creator, and more!
Haute Studio
Audio Recording
Find your voice at Haute Studio! Haute Studio is a state-of-the-art soundproof booth that will allow you to explore audio-recording technology at your own pace. In this self-directed learning environment, you can record music, preserve your family's oral histories, or create a podcast!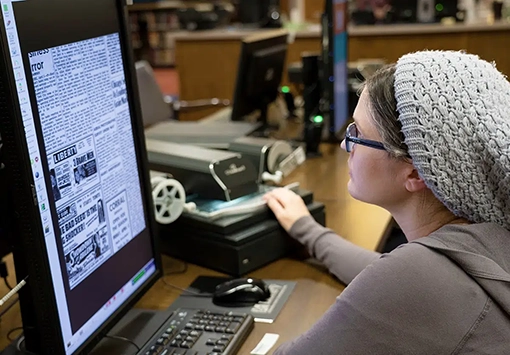 Explore Resources
Find the materials you need to research your family roots and local Vigo County history.
Genealogy Resources
Explore our online genealogy databases to uncover your family history.
Local Records
Discover the rich history in Vigo County. Look through our historical biographies, timeline of Terre Haute, and more.
Featured Online Resources
Movies, TV series, music and audiobooks
Video tutorials for library resources
Not sure where to start?
Ask Your Librarian.
"*" indicates required fields